My Review of Ylang Rose Deodorant by Scrubber
Posted on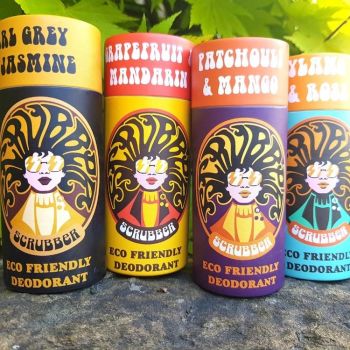 As someone who sells natural products, I believe it's important to not only promote them but to use them as well. So, when I noticed my body odour had gotten stronger in the last year due to menopause, I had to try different deodorants. The crystal sticks werent effective and the high street brands targetted for stronger odours eg Mitchum were not what I would call "natural." So I decided to try one of the Scrubber deodorants but I was skeptical as I didnt think they would be "strong enough" to last the day. WellI was pleasantly surprised.
The texture of this deodorant is different than what I was used to - it's more of a putty-like consistency. It was a little stiff to rub under the armpit at first, but after a few days, I got the hang of it. Instead of rubbing, I learnt to just press and drag up and down in strokes easily.

Overall, I'm extremely happy with the Ylang Rose Scrubber deodorant. It not only smells amazing, but it's also made with natural ingredients that don't harm my body. Plus, it's effective and lasts all day long. I give it my seal of approval and will continue using it and will try out the other fragrances.
It's important to note that natural deodorants may not work for everyone, and it can take some time to find the right one for your body. But I truly believe in the benefits of natural products and the impact they can have on our health and the environment. So, if you're looking for a natural deodorant that actually works, give this one a go.
Natural Deodorants | Aluminium-free, Alcohol-free, Synthetic-free (simplyessential.uk)