New Essential oil Starter Kits in
Posted on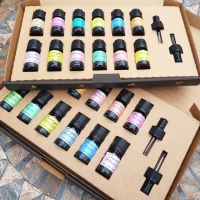 I saw these kits and thought how great they were for anyone starting out in aromatherapy. I know we are months away from Xmas, but Im always on the look out for great gift ideas.
So these kits are both different, one is the "Starter kit" and the other "Top 10 Essential oils" Both have 2 glass pipettes and boxed
What I love about these is the colour coding into categories, so if you had both kits they would also match the groups of Minty, Citrus, Floral, Herbaceous, Spicy and Woodsy.
STARTER KIT ESSENTIAL OILS KIT £20.49
Lemon, Mandarin, Ho Wood, Ylang ylang III, Wintergreen, May Chang, Eucalyptus. Peppermint, Tea Tree, Lavender, Star Anise, Camphor Essential Oils
TOP 10 ESSENTIAL OILS KIT £21.99
Sandalwood, Lemongrass, Patchouli, Lemon, Rosemary, Orange, Lavender, Eucalyptus, Ylang ylang III, Tea Tree, Bergamot, Citronella Essential Oils